I propose to you to be made discover our more beautiful Corsican paths, with the possibility of making small zones trial with each intersection, to eat in sheep-folds, to visit tops near the famous GR. 20.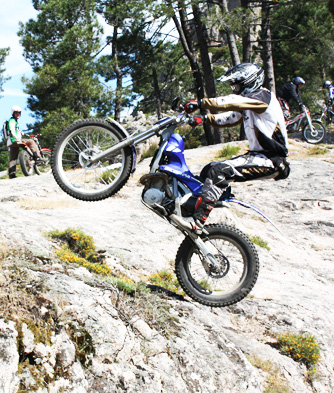 Ways of customs officer, enormous stones with the forms carved by the wind and water, of the rises, the descents, the steps, of rolled up, the complete panoply for the motorcyclist trial in request.
The assistance van will be ensured during all your stay, with the petrol, oil, the small essential spare parts, the toolboxs and the bags of exchange for your comfort. My various experiments of international pilot, my pointed knowledge of the ground and the typical ways through the insular maquis and landscapes and my diploma of state will enable you to evolve in a sporting and ludic framework in full safety and serenity. Think only of your pleasure of motorcyclist trial, I deal with all !
With the pause lunch, a snack will be been useful to you in the maquis and according to the weather and the place, of the grills will be organized by our "supply craft", under the chestnuts or on a headland with the sea or the mountains in wallpaper. After your day of relaxation, With fallen the night according to your choice, you will be lodged in list rural, hotel more or less spangled. I have a list of accommodation adapted to your desires and your budget. Later in the night with taken care of a chimney fire you will be able to still dream with the landscapes so typical that you will have crossed. Your accompanying and guides will be able to follow you and to find you midday or the evening, I take care also of their comfort if you wish it.