Open the eyes, come to discover the authenticity…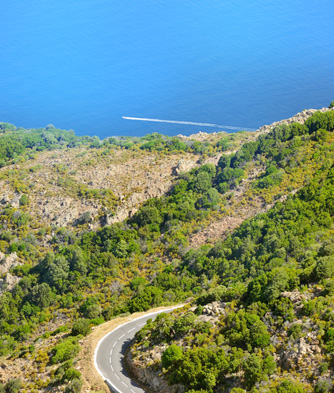 You will pass from landscapes of rocks limestones to the softer landscapes of the granite declined several colors, the intoxicating odor of the cyste, the myrtle, the so characteristic lavender butterfly and of the immortal savage, I will lead you through this maquis. The climate of the south is generally mild, it is frequent to count 18°C in full winter. Our guest houses or lists gets tougher are impregnated local framework, I have chosen them and tested for several years for their comfort and the sight that they offer. The privileged contacts that you will have with their owners will reflect with wonder the cordial climate of this island. The Corsican cuisine is made up of multiple dishes quite as good as natural! Fish with piglets with the broche.il has there for all the tastes!
Quality and authenticity, are the main words of this multicoloured kitchen. A truck of assistance will follow to you during all the stay, it will enable you to discharge from your bags, to prepare you the daily lunches in the maquis or the grills according to the weather, in short, possibly somebody on whom one will be able to hope to repair us.
The Corsican roads are of a large variety, beautiful mountain road to the perfect tar with the minor road in sorry state, via beautiful main roads which cross the island. Forget the kilometers if you want to discover Corsica in the motorcycle, the secondary routes are those to privilege and the turns are often tightened, not counting the cows, goats and pigs which hide behind the next turn. The ideal is of course to have a Corsican motorcyclist among his friends who will carry out you on the most beautiful routes. For this stay motorcycle in Corsica I could propose to you a wide selection of routes with road-book detailed, of the turn of Corsica to in-depth discovery of a region of Corsica.
During all the excursion and I will help you in the more or less technical passages if you wish it. My experiment and my diploma of state will enable me to frame you in full safety. Speak me about your desires and your waitings, I you built a custom-tailored circuit.